NO TOWERS
NO TAXPAYER DOLLARS
NO MOTEL
BREAKING:  OneNorth Bayside Developer Scott Yauck and Bill LaMacchia Abruptly Drop Development Plans One Day After August 6 Public Meeting – Neither Available for Comment 
Is this really over or will the Village Trustees help them with another attempt?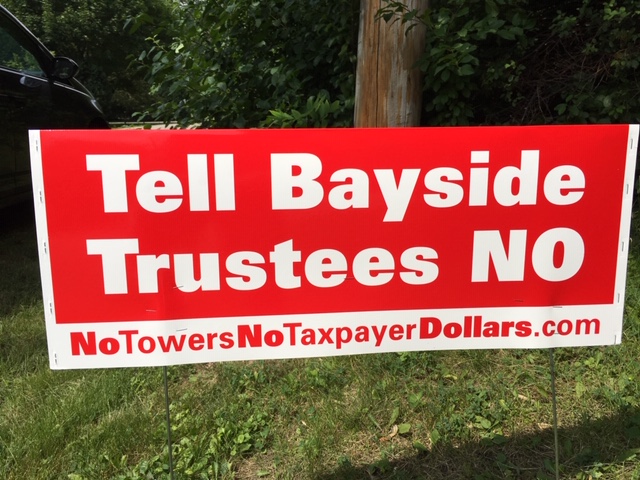 Dear Neighbors,
NoBaysideSkyscraper.com was originally setup to educate the Milwaukee suburbs about Cobalt Partners plans to build one of the tallest skyscrapers in Wisconsin in our tiny Village of Bayside, and the fact that they were requesting $43 million in financing from our village via a Tax increment financing(TIF) scheme.
The proposal was in clear violation of the MUNICIPAL CODE OF THE VILLAGE OF BAYSIDE, WISCONSIN, which limits building heights to 3 stories or 35 feet.
After a Public Hearing, the Bayside Community Development Authority "asked the developer to reconsider the submission, taking into consideration comments by village residents."
We thought the fight was over, but in response, the developer Scott Yauck told the Milwaukee Journal Sentinel. "Village officials haven't asked him to drop the high-rise portion. We're certainly open to their concerns, but we're not willing to create a project that's compromised and cannot succeed."  Ironically, this was our thoughts about the original proposal.
In 2018 the Bayside Village Board temporarily tabled development plans for a skyscraper complex after hundreds of  residents and concerned citizens throughout the Northshore raised objections both to the scale of the project and to the developer's request for taxpayer funding via a Tax Increment Financing (TIF) scheme.
In recent weeks the Village Board and the developers revived this project.  Re-zoning proposals that would expand height limits in the Village to 15 stories in order to accommodate a luxury apartment tower and other residential facilities, business and medical facilities, as well as a motel (referred to as a Hospitality Building), have been fast-tracked.
According to the developer, anchor buildings on the property will run 4, 5, 10, and 15 stories each.  
Just prior to his re-election, Bayside Village Board President Sam Dickman went on record to assure taxpayers that a TIF was off the table.  He claimed that the TIF was being used to give the Village "tools with which to negotiate with the developer," and that no one who looked at the proposed TIF "with any degree of expertise would have assumed that it would have survived scrutiny."    (Note:  this information is from a transcript taken from a live recording of the Village Trustee meeting on October 18, 2018 at Village Hall.)
So offering the developer more taxpayer dollars than what you are willing provide is a way to negotiate a lower amount?
Now that he and other members of the Board have been re-elected, the trustees are stonewalling residents on questions about how the project will be funded and whether or not taxpayers will be expected to pay for it.
Many other questions and concerns about the project remain:
Why are Village Trustees putting the cart before the horse, insisting on fast-tracking a radical re-zoning proposal to accommodate this development before Bayside residents even know how it will be funded and if they are expected to foot the bill?

Who approved the ten-year tax assessment freeze for the existing buildings on the development site, during which time lack of maintenance and improvements on the buildings have reduced their assessed value from over $7 to $4 million, a 40% decrease in value?

Were the existing buildings intentionally neglected in order to give the owners and developers a case for requesting a taxpayer-funded TIF, which are intended to be reserved for blighted properties?

How much tax revenue has the Village of Bayside and our school districts already lost due to the decade-long depreciation of the existing buildings on the property?   

Why did the Village Board refer the largest property owner Bill LaMacchia to the developer Scott Yauck?
How much of Bayside residents tax dollars is being spent by the village with the law firm Godfrey and Kahn to fast-track this process instead of Village services?
Who thinks a four-story hospitality building (i.e. Extended Stay motel) is a good idea considering the crime increase experienced by Glendale and other communities?
http://www.hospitalityrisksolutions.com/2011/04/20/hospitality-industry-security-risks-extended-stay-hotels-can-be-havens-for-crime-unless-extra-security-measures-are-implemented-including-criminal-record-and-sex-offender-background-checks/
Why would the Village Board consider a zoning change to allow 15-story buildings when the owner and developer do not have the financial resources to improve the existing property without taxpayer assistance?
Two successful and healthy North Shore communities, Fox Point and Whitefish Bay rejected buildings higher than 3-stories.
Note: The developer Scott Yauck is on the Fox Point Plan Commission
Does building office space in Bayside make financial sense with a TIF given the glut of empty office buildings in Brown Deer and other suburbs especially when companies are moving to downtown Milwaukee to retain and attract a talented workforce?
" 'We're sort of deluding ourselves if we somehow could create the energy that you could get down here — we're on the river, we're on Water Street — that we could recreate that energy in the 'burbs.' … There really was no comparison."
"We want to make sure we're offering (employees) an exciting location to work, an exciting location to stay,"
https://www.biztimes.com/2019/industries/real-estate/want-talent-wheres-your-office/ 
Will this development become Bayside's Foxconn?
"The public was not allowed to read the development agreement between Mount Pleasant and Foxconn until it was approved by the Village Board in late November 2017, and Trustees who met in closed session negotiation meetings were prohibited from discussing the details with residents."
https://urbanmilwaukee.com/pressrelease/podcast-shines-light-on-mount-pleasants-rush-to-win-foxconn-deal/
Parking garages and retail are a recipe for this (both are TIF funded developments)
https://fox6now.com/2019/07/27/police-shorewood-man-carjacked-in-parking-garage-outside-walgreens
https://www.cbs58.com/news/woman-carjacked-at-bayshore-town-center
Realtors say metro Milwaukee needs more new houses and condos, NOT APARTMENTS
https://www.jsonline.com/story/money/business/2019/08/05/realtors-say-milwaukee-needs-more-new-houses-condos-not-apartments/1924797001/
Deja vu – Similar development proposed by Scott Yauck to Mequon in 2011 – Declined
"Without the TIF, he said the project would likely not go forward"
"Yauck said both the expansion of Port Washington Road and the visibility from Interstate 43 make for a prime location"
http://archive.mequonnow.com/news/119744184.html
Kenilworth IL has a reputation as being the wealthiest and the most exclusive community in the Midwest
https://wirepoints.org/the-audacity-of-tifs-even-blighted-kenilworth-wants-one/
An ambitious plan for pricey attached homes has fizzled, leaving part of the suburb's downtown with a black eye – A multimillion-dollar miscalculation in Winnetka IL
https://www.chicagobusiness.com/residential-real-estate/multimillion-dollar-miscalculation-winnetka
Under the terms of a TIF, any revenue from the development will be paid first to the developer, while the Village residents will not begin to receive any tax revenue that may remain for up to the maximum TIF timeframe of 27-years.
Apart from the fact that TIFs deprive other local governments like school districts of future tax revenues, another concern is whether TIFs are worth the cost. It's difficult to prove whether or not a company would have invested in a TIF district without city incentives or determine the real return on investment for taxpayers.
And developers who receive TIF subsidies are rarely, if ever, held accountable for delivering the benefits they promise.
The proposed 15% payment to the Village can only be used in the TIF district and will not will provide any property tax relief (if ever – ask Glendale residents about the Bayshore TIF) until the TIF is repaid in full.
With no revenue from the development and existing property tax assessments in the TIF area frozen for up to 27-years,  how will Bayside and surrounding communities afford to pay the increase in shared police, fire, infrastructure, school districts and other costs during that time?
Here's what the Milwaukee Journal said about the August 6th Plan Commission Meeting
https://www.jsonline.com/story/communities/northshore/news/bayside/2019/08/07/bayside-onenorth-project-still-very-unpopular-despite-revised-plans/1940205001/
Project Zoning Submittal – Updated 8/1
http://baysidewi.gov/DocumentCenter/View/4649/PUD-Zoning-Petition-Submittal-
Remember – the developer wants your financial assistance for their financial gain
Plan Commission Members 
Other than Sam Dickman and Robb DeGraff, the members
are appointed by the Village Trustee senior members
Samuel Dickman, Chair
Robb DeGraff
Edward Harris
Jeff Jubelirer
John Krampf
Ari Friedman
Marisa Roberts – Chair of A.R.C.
The following correspondence was sent to each Village Trustee from a Bayside resident who gave us permission to publish it here:
I am writing to advise you of my opposition to the rezoning request for the parcel bordering Port Washington and Brown Deer Roads. Cobalt Development has publicized a vague plan which the board seems to be acting upon as the basis of this rezoning.  Very few people with whom I've spoken in our Village believe that it makes sense to build (the only defined element of the plan) a luxury residential high rise on the property.  More than a half dozen towers are now proposed or under construction downtown, which is clearly the preferred choice for retirees and young people.  Nice looking low rise townhouses, which would be a better fit for Bayside, are being built in Fox Point. The South Shore of Milwaukee (St Francis, etc)  along the lake has similar low rise developments which combine the natural setting of the lake, with beautifully landscaped grounds, in-ground pools, and athletic facilities, all of which are more desirable than a tower next to a highway in a community with no side walks. Nor does there seem to be much rationale for the five story zoning.
All of this is postulated on a development that has insufficient equity to be built without a investment from Bayside taxpayers in the form of a TIF (which is really intended for public infrastructure).  Why would we ever assume this can appreciate in value to the point where that money would be paid off?  We have, just down the road, a pretty clear example of what can go wrong.  Twelve years after Glendale invested in the renovation of the Bayshore Mall the assessment has been REDUCED from $313 million dollars to $65 million, and Glendale has had to come up with another $37 million to induce AIG to pay off the $57 million remaining in the TIF. Now, they will demolish the mall, which should actually reduce the value further (but who's talking about that?) and redevelop with similar uses proposed for our parcel, including more restaurants.
Glendale is stuck.  We are not, yet.  I say give Bayshore the Library (a much better fit) and go back to square one in Bayside.  Sit on the parcel until a developer comes along with sufficient equity and a plan that the market will support. There are numerous vacant storefronts in Bayside.  Why would we build more now?
I have had a long career in real estate development, and management, and I did not require taxpayer subsidies to shore up unmarketable space. Tenant improvements and rent inducements were offered to obtain and keep tenants.  While that meant less income on a monthly basis, the properties did in fact appreciate in value dramatically when they were sold. Our investors made money after our debt was fully repaid. During downturns there was sufficient equity to cover unexpected risks. We are not investors or owners of these properties and there will be no upside for Bayside taxpayers.
Thank you for your attention to this matter and for your service to the Village of Bayside.
Your voice matters so please contact the Village Trustees and tell them NO to rezoning, NO to the TIF and NO to this development.

Click here to donate at our GoFundMe site or send us an email
Roundy's Metro Market TIF Is Bad News for Shorewood Taxpayers
Apparently Roundy's (now owned by Kroger) feels the increased assessed value they originally agreed to in the TIF isn't correct now and filed an objection to the assessment with the Shorewood Board of Review.
"Until the TIF closes, taxpayers will be paying for the village services the store requires"
Remember the part that was mentioned in the Bayside TIF informational meeting where the developer/owner pays property taxes on the increased value of the TID until the TIF is paid off.  And don't forget we're told the taxpayers are protected from any financial loss.
Substitute Cobalt Partners and Bayside, and well, you get the idea what you and your kids may be stuck with after this development is sold to investors.
Remember this when you hear Bayside Trustees tout a PAYGO TIF has no risk to taxpayers.
Side note:
Max Dickman, Chairman for the Village of Bayside Zoning & Appeals committee and Sam Dickman's son, who spoke in support of the 43M TIF for Cobalt Partners at the CDA meeting was previously the Real Estate Development Manager for Roundy's.
Historical Perspective – What We Heard From Residents Last Year


Vast majority of 300+ residents in attendance oppose the TIF and 30-story skyscraper
Sam Dickman's son, Max Dickman, supports the TIF and 30-story skyscraper
CDA member and Trustee Dan Rosenfeld has prior business relationship with Cobalt Partners and has not recused himself despite the appearance of a conflict of interest
Cobalt Partners principal, Scott Yauck, has had numerous lawsuits related to taxes, project disputes and an eviction from his home
Residents concerned about impact on property values, traffic increase, crime and view of 30-story skyscraper
Unknown additional costs for police, fire, street, wastewater and schools to be borne by residents for duration of TIF
No property tax relief outside of TID for duration of TIF – 18 – 27 years estimated
Existing property tax revenue from this area frozen at current value as of January 1, 2019 for duration of TIF
What will this property look like and what will be the taxable value in 27 years?
Village hired public relations firm that is reimbursed by Cobalt Partners
Residents overwhelmingly demanded a Village referendum to determine the fate of the TIF and this development that will forever infect semi-rural Bayside with urban sprawl
The Costs of TIF Use
Because TIF districts pay for improvements through future tax revenues, many people consider TIF 'getting something for nothing'. This is simply not true.  In fact, using TIF carries significant costs, beyond just the dollar value of improvements made in the district.
These costs fall into five general categories:
Direct Costs: When most people discuss the cost of a TIF district, they are referring to direct costs. Direct costs are the costs of the physical improvements (including labor costs) within the district, the administrative costs of managing the district, the costs of any consultancies and/or developer incentives and the costs of financing all these expenditures.
Service Costs: Although not commonly included in TIF accounting, local governments take on new service costs during the life of each TID. New development increases demand for city, county, and school district services— demand not accompanied by increases in tax revenue to provide these services. For instance, a new subdivision will send more kids to school, require additional snow and trash removal and need more road maintenance. Providing these services is costly and, over the full life of a TID, can add up to millions of dollars.
Fixed Tax Base Costs: Fixed tax base costs are the costs of lost tax revenue on private development that would have occurred without TIF. When the 'but for' test is administered with 100 percent accuracy the fixed tax base cost of a TID is zero. In many cases, however, the property included in TIF districts would generate some form of privately-funded development over the TID's life without any subsidy. If the property had not been included in a TID, local governments could receive taxes on this development immediately instead of it being diverted to pay off TID project costs.
Opportunity Costs: Using TIF also imposes opportunity costs on local governments in two ways. First, by approving one project plan for TID development, local governments eliminate the opportunity to develop that piece of land in a different manner. For example, if a project plan allocates TIF funds for the creation of an entertainment district, it eliminates the possibility of developing that land into an industrial corridor. Second, when one TID is created, it limits the municipality's ability to use TIF elsewhere within the community, because state law limits the amount of property value which municipalities can include in TIF districts.
Negative Externality Costs: Improper planning and land use is costly to a community. As a development tool, TIF can contribute to these costs when used unwisely. If TIF is used to subsidize greenfield development on the urban fringe it contributes to sprawl, congesting commuter corridors and increasing pollution. If TIF lures businesses away from dense urban centers, it contributes to the spatial mismatch between jobs and employees, simultaneously creating labor shortages and unemployment. Likewise, if TIF is used to attract employers that do not pay living wages, the public bears the cost of wage supplements and social services for the working poor.
The Bayside Village Board of Trustees has the authority for management of local property, including the adoption of zoning ordinances and FINAL DECISIONS ON DEVELOPMENT PROPOSALS.
Tell Them Vote NO TIF District 
Request a Yard Sign Today